October 1, 2014
What's new in Ello
It was in the year 2009 when there was a spike in facebook registrations, and slowly everyone started to forget orkut. Social Network orkut is no more.
So let's start with a question. What is ello?
Ello is a simple and lightweight social network of  your dream's. It's a very simple designed-looking website, with lots of white space and circles. Click here to visit ello
The one big thing which makes ello stand out of facebook is that, there is no ads! The registrations is through invite only. Still ello is getting a big rush. Almost 31000 registrations is happening each hour. Founder of ello Paul Budnitz have promised that our data wont be used for any business analytics. That's what we all need.
Unlike Facebook, which makes 90 percent of its money from advertisements, Ello doesn't sell ads. It plans on making money with a "freemium" model it means users can purchase special features to customize their Ello experience. Pay only if you use it or its free. The new social media platform is based in Vermont and has been launched by a group of artists and programmers led by Paul Budnitz, whose previous experience includes designing bicycles and robots.
Facebook is now owned by Advertisers. I strongly feel sooner or later facebook will say good bye if it doesn't bring any changes in it.
Facebook CEO Mark Zuckerberg also seems to be interested. He updated his status, speaking about Ello, and he remarked that it is a brilliant idea.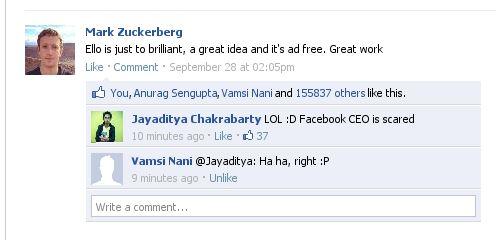 ello's manifesto  says : "You are not a product". That's indirectly a blow given to Facebook. .Although it is still in beta, it has a nice clean look and is uncluttered by the volume of posts and mandatory Facebook posts and sponsored posts that clutter up a time line. Based upon my 24 hours of use, I feel that most of them will find it uneasy to use ello initially. But time can create wonders and there maybe a time when people will stop using facebook
I have few invites with me. Those who want it can comment in this blog